Getting started with your Jimcom Streaming/Recording Equipment
Your Jimcom camera's default IP Address is: 192.168.5.163
You have received your Jimcom Equipment, THANK YOU FOR YOUR PURCHASE! These products are commercial grade and will require a little set-up to make sure you have proper access to all its features.
This page is dedicated to help our customers get there product into production as soon as possible. If you have a problem getting your product set up, please send us a comment through the support page so we can add it here for you and others. We have included easy to follow videos as well. Let us know if there are other vidoes you would like to see.
There are a few items to talk care of to get your product connected to OBS.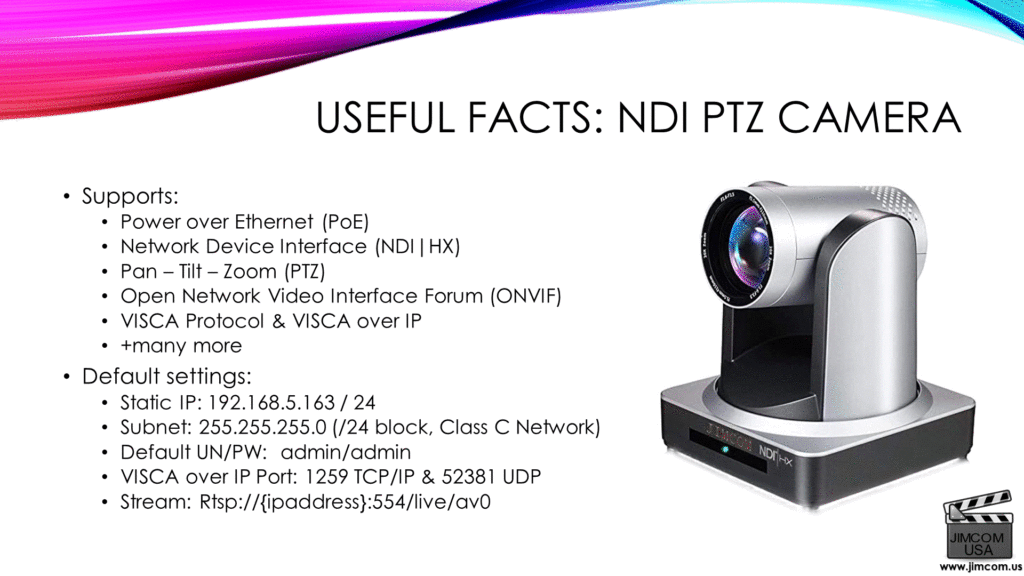 NDI PTZ Camera Initial Configuration - Jimcom PTZ Cameras Training
This training is provided for customers of Jimcom NDI PTZ Cameras to set-up their cameras with their initial configuration. This is a beginner's guide to will help town meeting, town council, selectmen meeting, churches, events, broadcast centers, educational webinar, business webinar, and other live streaming / recording studios up and running quickly.
NDI is recommended for new installations and for future growth. It offers some significant advantages which can be reviewed here.
Get Started with OBS Studio
OBS Studio is the leading Open Source and Free Video Broadcasting software Packages. Use OBS with your Jimcom IP or NDI PTZ Cameras to get the most of your investment for your House of Worship, eSports, DJ & Music Production, or business broadcast.
A tool like this can easily get your local Town Government / Selectmen streaming to the town, Church streaming to its parishioners, eSports events out to fans, produce your next music video, or create a business video for market your product and services.
OBS Studio allows broadcasters to create scenes with multiple inputs on the same screen allowing picture-in-picture. This tool will help create professional broadcasts and bring in multiple guests/videos via different sources. There are move advanced features that can be enabled such as being able to change your video source order, rotate them, or even add filters.
With the addition of Plug-Ins, the main program can be extended beyond the base product. Jimcom USA recommends you add the NDI plugin to connect your cameras via a low latency for your broadcast. The OBS Studio 27 release has new feature such as Undo/Redo, Improved Display Capture for Laptops, Missing Files Dialog, Source Visibility Transitions, and many more improvements. This project is community support and new features and add-ons are being created all the time.
This tool can even be run as a Portable Application. This enables having OBS on a thumb drive and able to get started on almost any PC with no installation. It also facilitates multiple "versions" of OBS with different plugins and configurations if your site needs different styles for different equipment, etc.
Add PTZ Controls Dock into OBS Studio | PTZ Control for OBS | Great PTZ Hack
Add PTZ Controls Dock To OBS Studio! In this short video, we will cover how to add PTZ Controls Dock to your OBS Studio set up. The PTZ Controls Dock will support any number of cameras and allows setting and recalling of presets as well as manual control of the PTZ features of your Jimcom PTZ Camera.
This plugin uses VISCA-over-IP to control the camera connected to your local area network. A serial cable is also supported but not covered in this video.
Tip URL to all of OBS Studio's Resources:
https://obsproject.com/forum/resources/
The PTZ Controls Plugin:
https://obsproject.com/forum/resources/ptz-controls.1284/
The PTZ Controls Download Link:
https://obsproject.com/forum/resources/ptz-controls.1284/download
Remember that your Jimcom PTZ 20X optical zoom camera will use Port 1259 for VISCA-over-IP, please make sure you use this port value during set up.
UPDATE: If you have recent Firmware update for the NDI PTZ Camera, please use the recommended UDP Port 52381 during set up.
OBS NDI Set-Up for Beginners